Our Seasonal quilts are now on display (and for sale) at Shonnard's Nursery on Philomath Blvd. We hope you will stop in to see them. Approximately one-third of our income depends on the sale of quilts and we love Shonnard's for their year-round support of this effort.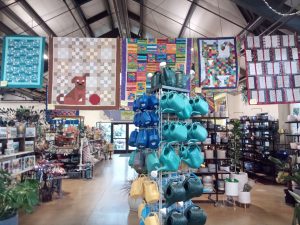 QCH members participated in this year's Quilts in the Garden on June 18th.  Some of our quilts and other handmade items and fabrics were sold during this event.  Please go to the Marys River Quilt Guild page for details.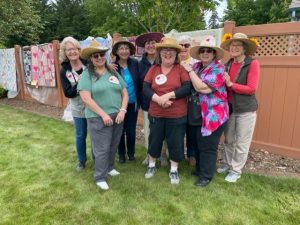 WE ARE AT THE SCOUT LODGE ON WEDNESDAYS ONLY FROM 9 am-12:00 pm.  WE WILL HAVE A SHORT MEETING AND SHOW-AND-TELL AT 11:30, AND THEN WILL BREAKDOWN TABLES AND CLEAN OUR TWO ROOMS. 
PLEASE NOTE: AS OF 8/12/2022, QCH HAS A NEW PHONE NUMBER! 458-272-8111
WE WILL ACCEPT FABRIC DONATIONS ON WEDNESDAYS BETWEEN 9:00 AND 11:30.  IF THIS IS NOT CONVENIENT, PLEASE CALL OUR NUMBER AND LEAVE A MESSAGE. SOMEONE WILL CALL YOU BACK AND GIVE YOU AN ALTERNATE DROP-OFF LOCATION. YOU MAY ALSO CALL 541-758-6491. PLEASE REMEMBER THAT WHAT WE MOST NEED ARE 100% COTTON FABRICS."
Who we are and What we do
There are few things more comforting than being wrapped in your own handmade quilt.  The primary purpose of Quilts from Caring Hands is to bring this feeling of loving comfort to at-risk children in Oregon's Benton, Linn and Marion counties. These include those who are homeless, drug addicted, visually impaired, or abused, and those in foster care. Our quilts are distributed through designated social service agencies.
Each quilt we make for a child is unique.  In addition to crib- and twin-sized quilts, we also assemble tactile quilts and "cuddlers" for visually impaired children.  The finished quilts and cuddlers are given away once each quarter.
QCH is grateful to our sponsors for their support over the years. Quilts from Caring Hands is a volunteer-powered 501(c)(3) nonprofit organization.  All donations are tax deductible.