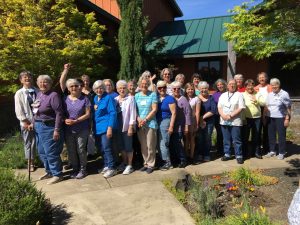 Quilts from Caring Hands (QCH) makes and distributes quilts at no charge to children-at-risk in Benton, Linn and Marion counties in Oregon: the homeless, those in foster care, visually impaired, abused, those with mental health issues. Our quilts are given to agencies that work with children from birth to age 18. QCH is a 501(c)3 nonprofit organization. All contributions are tax deductible.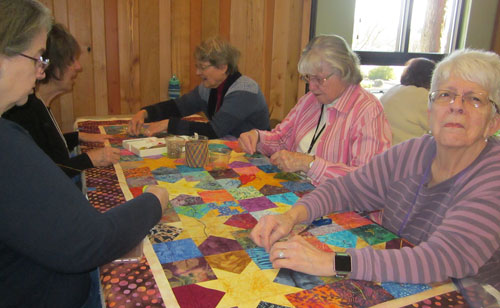 Quilts from Caring Hands members make sturdy, washable crib and twin-size quilts. We are a group of caring volunteers dedicated to making quilts for children at risk. We enjoy getting to know each other as we sit side by side to tie the quilts. Anyone is welcome to join. Quilters of all levels are needed, as are non-quilters and non-sewers. "There are no dues, nor minimum time commitment. We meet every Wednesday from 9:00 am to 11:00 am. Come when you can, and stay as long as you are able. Quilting supplies and fabric for use in QCH quilts are available in our workroom.
Our volunteers also assemble tactile quilts and soft therapeutic cuddlers for visually impaired children. Each quilt we make for a child is one-of-a-kind and filled with love.
One of our main fund raising methods is to sell quilts. You can support us by
buying a quilt
. Our quilts are available year round at Shonnard's Nursery (6600 Philomath Blvd, Corvallis, OR 97333).
If you are considering a donation to QCH, there is a PayPal button on this website on the How You Can Help page, which will provide you with a receipt immediately for your generosity.