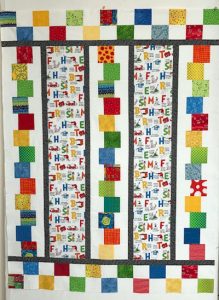 QCH is able to distribute quilts to disadvantaged children because individuals just like you have generously donated time, money, and quilting materials.
Quilts From Caring Hands relies solely on material and money donations from supporters, and time from volunteers. You can help support Quilts From Caring Hands in a variety of ways, listed on this page. There are many ways to help support Quilts From Caring Hands.
By Giving Quilting Materials…
Completed quilts for children: twin (60″ x 80″), crib (40″ x 50″).  Please note that these sizes are approximates.  May either be machine quilted or tied.
100% cotton fabric in large pieces, including preprinted panels
Pieced blocks, "works in progress," quilt tops
Textured fabric — i.e. terry cloth, fleece, velour, fake fur (for tactile quilts)
Cotton or 80/20 cotton/poly batting
Crochet thread size 10
By Giving Monetary Support…

Quilts from Caring Hands is a 501(c)(3) nonprofit organization; donations are tax deductible. As QCH is run totally by volunteers, 100% of donations go to support this project. We appreciate contributions of any size — even a few dollars will help us meet our budget and allow us to purchase supplies such as batting, thread, and fabric. Did you know that just $20 will give a child a quilt?
By Giving Cash – If you feel so inclined, we are very grateful for any cash donations. You can send a check directly to us through the mail. Make checks payable to Quilts From Caring Hands, mail to 922 Circle Blvd, Suite 160 PMB #238, Corvallis, OR 97330-1410.
PayPal  is a secure way to use a credit or debit card to directly donate any amount of money. To make a donation, please use the button above.
Tell us about grant opportunities. Do you know of a company or organization that supports non-profits like ours?  Please contact us to let us know.
By Buying A Quilt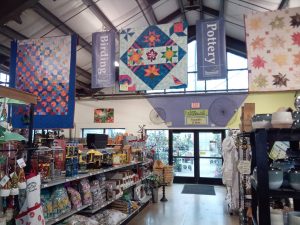 One of our main fund raising methods is to sell quilts. We don't make custom quilts but some of our member-made quilts are for sale locally. Sorry, we do not mail quilts. You can support us by buying a quilt. They are available to view at Shonnard's Nursery (6600 Philomath Blvd, Corvallis, OR 97333) year round.
By Giving Time …
UPDATE:  WE NO LONGER REQUIRE EVERYONE TO WEAR A MASK BUT PLEASE REALIZE THAT OUR GROUP IS MADE UP OF OLDER FOLKS WHO MAY BE VULNERABLE TO THE COVID-19 VIRUS. OUR HOURS WILL BE 9-12:00 AM.. WE WILL HAVE A SHORT MEETING AND SHOW-AND-TELL AT 11:30, AND THEN WILL BREAKDOWN TABLES AND CLEAN OUR TWO ROOMS. 
At weekly meetings:
Sort and organize fabrics
Select patterns and fabrics for quilt tops
Tie quilts
Give us encouragement
At Home
Sew binding and labels on quilts
Make a 100% cotton quilt top of your design or from a kit
Machine quilt tops
Wash new or donated fabric, iron, and return.
Cut fabric into standardized squares or strips, or make bindings or backs for the 2 sizes of quilts
Sew batting pieces together