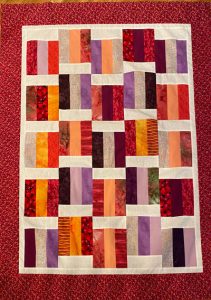 UPDATE: AS OF 8/13/2021, WE WILL BE FOLLOWING STATE MANDATES AND REQUIRING THAT EVERYONE WEAR A MASK REGARDLESS OF VACCINATION STATUS. OUR HOURS WILL BE 9-11:30 AM, AND WE WILL NOT BE EATING LUNCH TOGETHER. WE WILL HAVE A SHORT MEETING AND SHOW-AND-TELL, AND THEN DOING BREAKDOWN. 
DONATIONS CAN BE ACCEPTED BETWEEN 9-11:30 AM ON WEDNESDAYS.IF THIS IS NOT CONVENIENT, PLEASE CALL OUR NUMBER (541-286-8831) AND LEAVE A MESSAGE. SOMEONE WILL CALL YOU BACK AND GIVE YOU AN ALTERNATE DROP-OFF LOCATION. YOU MAY ALSO CALL 541-753-0401. PLEASE REMEMBER THAT WHAT WE MOST NEED ARE 100% COTTON FABRICS."
Email
qch@peak.org
Mailing address
Quilts from Caring Hands
922 Circle Blvd. Suite 160 PMB #238
Corvallis, OR 97330-1410
Phone
(541) 286-8831
Come by for a visit!
If you live in the Corvallis, Oregon area, come by for a visit. We meet every Wednesday from 9:30 am to 1:00 pm.
Note: We are there only on Wednesdays, so please leave a message on our phone if you do not reach us.
Philomath Scout Lodge
660 Clemens Mill Road
(east side of Philomath off Hwy 34/20)
Philomath, Oregon